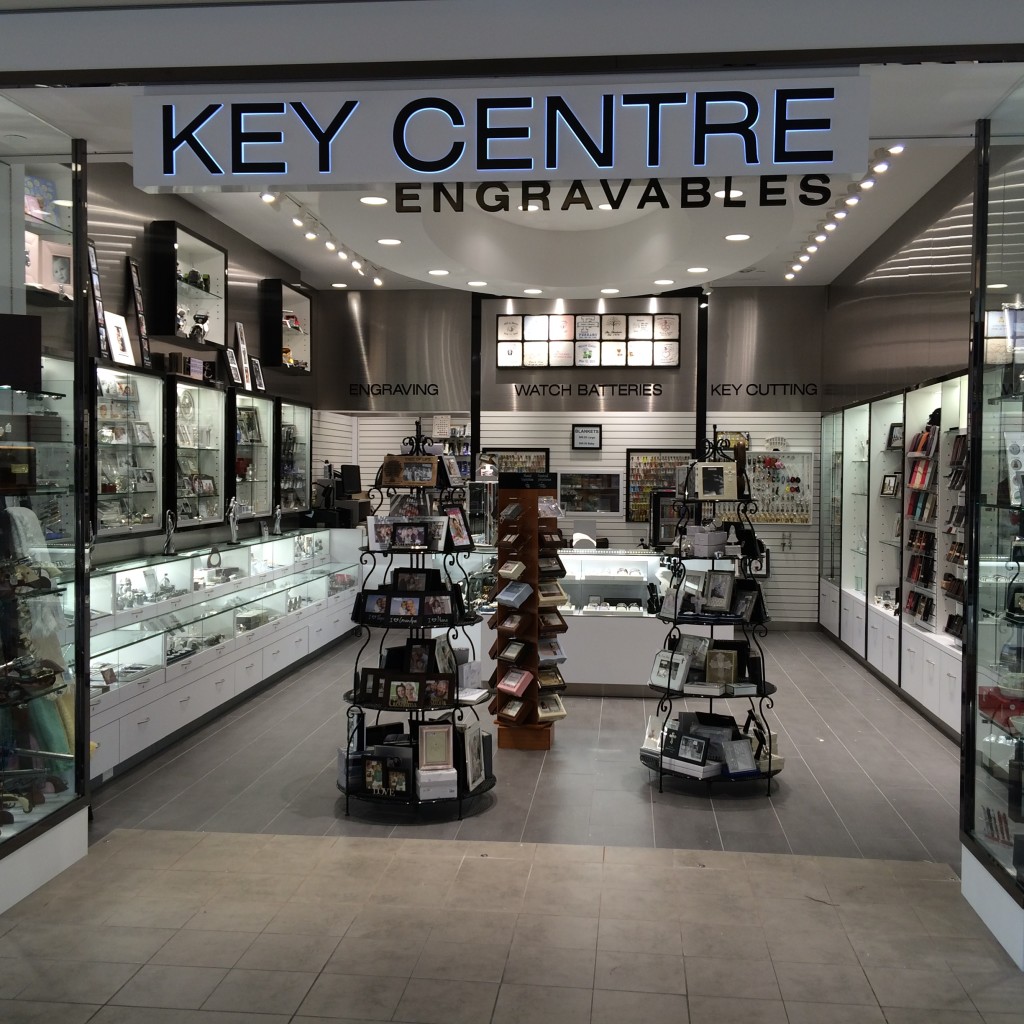 Since 1981 Key Centre has offered shoppers an extensive range of the highest quality, unique gift items at the best prices.
Key Centre Engravables is owned by George and Shelley Thomas.
George started cutting keys and engraving in 1974 for his uncle: at the original Key Centre in Toronto, at the corner of Steeles and Yonge.
After graduating from high school, George decided to open up his own Key Centre in the Milton mall in 1978. That's where he met his future wife, Shelley, who was also working at the mall.
Five stores and two children later, George and Shelley focused their attention on their Stone Road Mall location in Guelph. Open since 1981, the Key Centre is now the longest standing, independently owned store in Stone Road Mall.
Serving over 30,000 customers each year, the Key Centre has seen a lot of changes. For example, products were engraved by hand up until 2001 when George and Shelley purchased a computerized engraving machine. Since that purchase, they have now engraved over 4 million letters and counting…
One thing that has not changed, however, is the Key Centre's focus on customer service. Being an independent retailer, they have the ability to focus on a customer's needs and wants – whereas a large corporate retailer can only offer what's on the shelves.
George and Shelley raised their family in Guelph, reside in Guelph, and look forward to continuing to serve their community.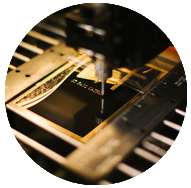 Engraving

Engraving is available for metal, glass, leather, wood and plastic items. First 5 letters are Free – 79 cents for additional letters.
Find out more
Special Items

Come by and see our wide selection of gifts and specialty items. Ask us how we can help you find that special keepsake.
Find out more
Wedding and Anniversary

Celebrate your special occasion with the perfect gift. We are proud to offer a wide selection of items for your special day.
Find out more
F.A.Q.
If you purchase an engravable item from the store, you get five letters engraved for free. After that it is .79 cents per letter. The only exception is glass (there are no free letters included with glass).
Absolutely! It is a $8.95 setup charge per item, which includes the first three letters. Then it is .79 cents per letter after that. Oh…and there is no charge for punctuation.
We can engrave into any kind of metal, as well as glass, plastic, leather and wood.
Yes! It is a bit more in terms of setup because we have to switch our machine over, but we can absolutely engrave inside rings and bangles. The setup fee is $20 per item, and then it is .79 cents per letter.
That is the great thing about being an independent retailer. We can help you find any item you are looking for. If a product is available to us, we'll get it for you.
As long as an item is not engraved (or sold on sale), we can provide you with a full refund up to 5 days after your purchase, or 30 days for an exchange.
We offer products from a wide variety of wholesalers, including Zippo, Fossil, Cross, Shaeffer, Parker, Waterman, Dalvey, and Victorinox – the Original Swiss Army Knife maker.
You can place an order by phone or email.
Locally, you can call us at 519-836-8580.
You can also call us toll free at 1-866-814-9809.
You can also email us your order (or questions!) at sales@keycentre.ca.
Most engraving jobs take under 30 minutes, on a first come – first serve basis.
If you are in the Guelph area, you can pick up your purchase in store at your convenience. We can also ship your order (normal shipping rates apply), and all orders over $500 will receive free shipping.
Store Features
Your source for engraving and more
– ENGRAVING: We can engrave products bought from us, or products you bring in. Our computerized system can engrave on metals, glass, leather, plastic or wood. And we have over 50 different font styles for you to choose from.
– KEY CUTTING: House keys, mailbox keys, office keys and older model car keys are easily done.
– WATCH BATTERIES AND WATCH STRAPS: You bring in your watch, we can do the rest. Most batteries are $7.95, and that includes installation.
– EMBROIDERY: We have a selection of blankets with customized embroidery. Perfect for babies, weddings and anniversaries.
– LOGOS: Do you have a logo you want put on an item? We can do that for you. Send us your logo in JPEG format, and we can engrave it on to almost anything.
– AWARDS, TROPHIES AND PLAQUES: We can cut custom metal trophy plates on-site and help you create and design that special award. Please note that on these items, engraving is only 40 cents per letter. Discounts apply to large orders.
– NAME BADGES: We can supply you or your organization with pin or magnet name badges. Done on site.
How can we help
From Dalvey Products to Victorinox knives and beyond, we can help secure a wide variety of products from our partners and suppliers. We have a unique relationship with our suppliers that allows us to offer our customers those hard to find items. Give us a call or stop by and see us to find out how we can connect you with your special item.
Call us toll free at 1-866-814-9809, or email us at sales@keycentre.ca
And great value
We pride ourselves in offering both great prices and value. Our stock is affordable, accessible and the best of the best. No matter what special occasion you are celebrating, you can be sure to find the highest quality goods and services at a price that meets any budget. We know you'll find exactly what you're looking for.